Honey Wright (born 1992/1993)[1] is the former barista at the coffee shop in the Emergency Department of Holby General Hospital. After joining the ED in 2014, she built relationships with many of the staff and acted as someone they could talk to for advice. She temporarily left in February 2015 to look after her sick grandmother in Manchester, but rejoined in July. She permanently departed in September 2015 to move away and start her own business.
Time in the Emergency Department (2014-15)
Edit
Upon starting at the ED in 2014, she kept her life outside of work a secret to her co-workers, as at night she worked as a pole dancer at a club. However, Ethan discovered her secret the following month when he arrived at the club to see her dancing there. In December, she revealed to Noel that she was his daughter, something that surprised him a lot. Over the next few weeks they made an effort to improve their relationship as father and daughter.
In January 2015, Honey injures her ankle whilst re-auditioning at the pole dancing club. She goes backstage and phones Ethan for him to come and help, and also to keep things discreet about her secret job. The following month she finds Big Mac taking stock from the food bank and realises he can't afford to pay his bills. 
She temporarily left on 14 February 2015, to care for her grandmother in Manchester, after kissing Ethan.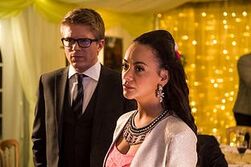 Honey unexpectedly returned in July 2015 to her old position as a barista at the coffee counter. Soon after she becomes jealous when she notices Ethan and Lily developing a stronger relationship, as she had started to have feelings for Ethan. In mid-August, Ethan asked Honey out on a date and she accepted, and they attended Max and Zoe's wedding together later that month.
After her relationship with Ethan ended in September, Honey decided to set up her own business elsewhere, therefore departing the ED.
Personal life
Edit
Honey used her position in the ED to keep up with the latest gossip and chat to all of the staff members. She flirted with Ethan regularly, and they began a relationship in August 2015. They broke up the following month as it just wasn't working out, and they were interested in different things.
She has a bright pink car with eyelashes.
Although she was the barista she was rarely seen actually serving coffee, and spent more time gossiping.
Honey briefly dated Ethan for just over a month.
She temporarily left in February 2015 to return that July.
Behind the scenes
Edit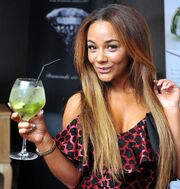 Chelsee Healey portrayed Honey Wright in Casualty from 2014 to 2015. She had one of the shortest runs as a show regular/employee of the ED, appearing for just over 4 months in a total of 16 episodes when she left in early 2015. However, she returned in July 2015 as a series regular again, appearing for a further 7 episodes. She is often thought to be a guest character due to her low episode count and infrequent appearances, however she was still credited as a main character. She had no centric episodes.
Healey was originally scheduled to appear as a nurse, but was instead given the role of the barista due to her lack of medical knowledge. Speaking of the role change, Healey said "The original plan was for me to come in as a nurse, but I did a screen test and didn't know what half the medical terminology meant - and when you don't understand it, it's hard to act out."[2]
Appearances
Edit
See also: Character appearances.
Honey appeared in 23 episodes of Casualty, the majority of which were in series 29. She made her first ever appearance in the series 29 episode "The Last Call" and her last ever appearance at the start of series 30 in "Cradle to the Grave".
References
Edit
↑ http://www.bbc.co.uk/programmes/b06t1vkc; In the series 30 episode "Home for Christmas", Noel indirectly states that Honey's age is 22. The episode took place on 24 December 2015, which most likely means that she was born in 1993. However, her birthday could have been between 25-31 December 1992.
Ad blocker interference detected!
Wikia is a free-to-use site that makes money from advertising. We have a modified experience for viewers using ad blockers

Wikia is not accessible if you've made further modifications. Remove the custom ad blocker rule(s) and the page will load as expected.