This article needs expanding.
This article is missing important details (e.g. plot details from recent episodes). You can help Casualty Central by expanding it.
Ethan Hardy (born Michael Hardy; 28 November 1986)[1] is a consultant and Deputy Clinical Lead of the emergency department of Holby City Hospital in 2014.[2] The week after he joined, his brother Caleb Knight also started working in the department.[3] In the following weeks, they clashed frequently at work, and even had a stern talking to from Zoe Hanna when they began arguing in front of patients.[4]
Ethan took his FCEM exams in 2015, but he and Cal failed theirs to become consultants.[5] During this time, Cal's competitive streak got in the way of him building a strong relationship with Ethan. Later in the year, Cal made the shocking discovery about their adoption, but decided to keep it from Ethan.[6] When Ethan found out the following year, this once again drove them apart,[7] especially when Ethan discovered that he'd inherited Huntington's disease from their biological mother.[1]
Upon Alicia Munroe's return to the department in 2016, Ethan and Cal both developed feelings for her. Cal initially went out with her, but in April he gave Ethan his blessing to go on a date with her. However, Cal was stabbed later that day and died in the ED, leaving Ethan distraught.[8] This led Ethan down a dark path which culminated in him allowing his brother's killer to die when he ended up in his care.[9]
Early life
Ethan was born in November 1986 to Emilie Groome. At a young age, Ethan and his older brother were taken away from Emilie due to her poor mental state as a result of her early symptoms of Huntington's disease. Shortly after they were adopted by another couple. Prior to the adoption, Ethan's name was Michael.[10]
During their childhood, Ethan and Cal had different upbringings despite sharing the same parents. Cal had to achieve by himself because he had fallen out with his father, also an ED doctor. Cal frequently argued with his father and left home at a young age, whilst Ethan remained at home and was exposed to a more family-orientated upbringing. Cal later changed his surname to their mother's maiden name of Knight.
Prior to joining the ED, Ethan completed a year of work experience working with the HEMS in London.[2]
Time in the emergency department (2014-)
Ethan had his first shift in the ED on 11 January 2014. On his first day, he arrived late due to the fact he was waiting for his brother to arrive to be with their seriously ill mother, Matilda. He helped treat a school teacher with Lily in an attempt to find out what was really wrong with her. Lily was appointed by Clinical Lead Zoe show Ethan the basics and introduce him to everyone. During his shift, Ethan received a call to tell him that his mother had died. When he went to visit her, he found that his brother had been there by her side as she died. This left Ethan distraught due to the fact he had been caring for her for a long time, whilst he brother was elsewhere.[2]
The following week, his brother Cal started working at the ED as a locum registrar. He attempted to avoid Ethan for the day, due to the fact that they still didn't get along. When they eventually faced each other, they both expressed their shock and annoyance. Both dealing with the death of their mother in different ways, Ethan realised that Cal's patient was a 17-year-old that he'd slept with the night before. Following an argument in front of the patient, they both assured Zoe that their personal life wouldn't get in the way of their work.[3] The following week, Cal convinced Zoe to keep him on as a locum, much to Ethan's annoyance.[11]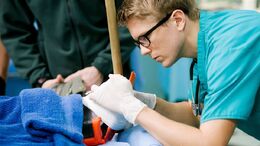 In February, Ethan and Cal finally managed to work together on a difficult case, but this quickly proved to be a one off.[13] Later in the month, Ethan and Cal attended a meeting with their mother's solicitor to discuss her will and how the property and money was to be divided. However, Cal was left furious when their mother had written in the will that even though the property value was to be shared equally, his share would be left in a trust fund under Ethan's name until he was sure that Cal wouldn't spend the lot on gambling, drink and women.[14] The following month, Ethan was left angry with Cal when he began flirting with Jenny, the nurse who cared for their mother before she died. Rita later encouraged Ethan to step out from under Cal's shadow and stand up for himself more.[15] Later in the month, Ethan was irritated when Cal turned up once again as the ED's locum registrar, unhappy about his frequent visits.[4]
In June, Ethan was upset when Cal asked Lily out on a date, purely to get in the way of him and Lily. However, Lily later confided in Ethan about how she'd heard Cal badmouthing her to Fletch. This caused the brothers to once again grow apart, as Ethan told him that he didn't care about himself but wouldn't let Cal hurt the people he cared about.[16] Lily was furious with them both for making her private life everyone's business. However, she later reconciled with Ethan after he apologies, despite the fact a reconciliation with Cal was a long way off.[17]
In July, Ethan was forced to step in when Cal forgot to finish a patient's treatment. Connie was furious with Cal for his error, which gave Ethan a feeling of satisfaction that he'd done the right thing.[18] The following month, Connie asked Ethan and Cal to come up with some cost-cutting strategies for the ED. However, when Ethan left his laptop open, Cal read his proposal and took is as his own.[19] With some help from Lily the following week, Ethan was able to expose him.[20]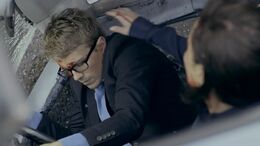 In September, Charlie sent out Ethan and Robyn to the scene of an accident where a floor had collapsed at a wedding party.[22] In October, the minibus Ethan was driving with several of the ED's staff was crashed into by a car, causing it to tip over. Ethan had serious injuries, and was treated and saved by Cal back at the ED. This accident ultimately brought the two brothers closer together. When the rest of the staff returned from the scene, they discovered that Jeff had been killed in an explosion, something which had a huge impact on them.[21] Ethan attended the funeral the following week although he was still recovering and shouldn't have been out of bed.[23]
Ethan was discharged from hospital a week after the funeral, and Cal was helping him with the move into his new flat. Cal was also taking advantage of the spare room in the process, which Ethan soon realised.[24] Ethan arranged a viewing at a local apartment the following week, but Cal failed to turn up, as he had no intention of moving out.[25]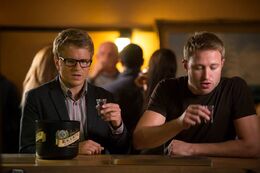 During a shift in November, Ethan bonded with coffee shop barista Honey. That evening, Cal persuaded Ethan to join him on a night out at a strip club. Ethan uncomfortably entered the club, and immediately discovered that Honey worked as a pole dancer at a club at night to earn more cash, which left her embarrassed.[26]
In January 2015, Cal booked a week-long holiday for Ethan at a party resort in Magaluf, so he could have the flat to himself to woo Taylor, his new girlfriend.[27] Meanwhile, Ethan became more involved with Honey when she called him asking for assistance at the club when she injured her ankle. He brought her back to the hospital and just as they were about to kiss, Honey's father Noel walked in.[28] The following week, he attempted to distance himself from her, but before long Lily gave Honey some advice on how to reconnect with him.[29] In February, Honey decided to leave the ED to move to Manchester, to look after her grandmother. Before Honey left, she and Ethan shared a kiss in reception.[30]
In April, Ethan discovered that £15,000 was missing from his bank account. Upon speaking to Cal, he quickly admitted that he'd taken it to give to his girlfriend, Taylor Ashbie, for her charity. However, Cal later discovered that Taylor's charity was a scam, and she was just after him for the money.[31] Later in the month, Cal annoyed Ethan even more when he turned up to work in a flash car, and asked for more money. He also refused to report Taylor to the police, and continued to undermine Ethan during their shift. Eventually, Ethan had enough and asked Cal to move out of the flat.[32]
A week later, Ethan received a phone-call from Cal who was with Taylor in a public toilet. She had been stabbed in the leg, and Ethan reluctantly agreed to bring some medical supplies with him. After they'd treated her, Ethan made an agreement with her that she'd get out of Cal's life once and for all and run away. When she did, she was promptly apprehended by the police who stopped her in her path. After her arrest, Cal found out that Ethan was the one who told her to and was furious, leading to a fight in the middle of the street. However, Cal soon realised that Ethan was simply looking out for him and they reconciled once again.[33] The following week, Ethan asked Cal to move back into the flat with him.[34]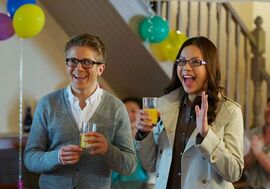 In July, Lily asked Ethan out to dinner but they never made it after they clashed over a patient's treatment during the shift. On the same day, Honey also returned to the department from Manchester.
[36]
The following week, Cal and Lily gave him conflicting advice about what he should do about his feelings for Honey. Eventually, Ethan decided to go with Lily's idea to study towards his FCEM exams instead of focus on a relationship. However, he didn't realise that Lily only said this as she had feelings for him too.
[35]
Ethan treated Charlie's son
Louis
the following week, who was admitted following a heroin overdose. However, Ethan accidentally pricked himself with a needle containing Louis' blood and had a brief HIV scare, before Louis was given the all-clear. Nevertheless, the eventful day made Ethan realise his true attraction to Honey, and he let Lily down gently.
[37]
Ethan asked Noel if he had permission to date Honey, and he said yes. Luckily for Ethan, Honey overheard the conversation and they shared a kiss in reception.[38] The following week, Ethan and Cal got their results back from the FCEM exams and discovered that they'd failed. However, Lily passed her exams to become a registrar, although Ethan and Cal didn't agree with her new authoritarian attitude.[5] He attended Zoe and Zoe's wedding later in the month, and was one of the people who attempted to extinguish the fire which broke out.[39]
The following month, Honey began to have concerns about her relationship with Ethan.[40] She broke up with him a week later, and left the ED to study holistic healing.[41] In October, Taylor returned once again with a baby she claimed belonged to Cal. After looking after the baby and staying with Cal for a short while in the hospital, Taylor ran off again.[42] The following week, Ethan encouraged Cal to take a paternity test to see if the baby was his or not.[43] Cal eventually agreed to do a paternity test, but only to prove to Ethan that Matilda was his.[44]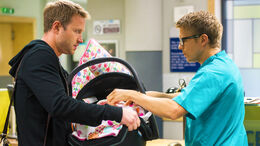 Cal brought Matilda into the ED in November when she had a high temperature, and Ethan was forced to remove Cal from resus when she started fitting. Later that day just as Matilda was recovering, Cal discovered that he wasn't her biological father.[45] Cal also realised that his blood group wasn't possible upon looking at his mother's, and realised that he could have been adopted. Cal got his own blood group tested, and discovered that he was in fact adopted. Nevertheless, he decided to keep the news from Ethan.[46] Cal later visited their birth mother and discovered that she had Huntington's disease and that he and Ethan had a 50 percent chance of inheriting it.[10] Cal tried to find an appropriate time to tell Ethan, but in the new year, Ethan's own state of mind was going downhill, and Cal didn't think he could cope with hearing his news too.
In 2016, he realised that he failed to see the signs of abuse on Jess' young daughter Olivia. He was left feeling guilty, but everyone tried to convince him that is wasn't his fault, including Lily. In mid-January when a black alert was called in the hospital, Ethan was forced to discharge a suicidal man at the start of the day. However, he later recognised a man who had died in the ED as him, and that when he left the ED he had presumably killed himself. With his emotions clearly in a mess, Cal prepared to finally tell him the truth, but just at the wrong time.[47] The following week, many noticed that he was emotionally unstable after the events over the past couple of weeks, which caused him to lash out at Zoe during a meeting. Towards the end of his shift, he had a letter in his hand for Connie. He told Lily that he was tired of the job and that he was going to quit.[48] However the following week Connie told Ethan that they'd already found a replacement who would be starting immediately, and that it would be Ethan's final shift. She did this to shock Ethan who eventually reconsidered following Lily's attempts to get him to stay.[49]
In February, Ethan climbed atop a Ferris wheel to rescue an autistic girl, something which was praised by the rest of the team. However, he was also treating Emilie back at the ED, not knowing she was his birth mother. At the end of his shift, he went back to check on her and Cal told him the truth.[50] The following week, Ethan let his anger out and ended up punching Cal in the stomach in the staff room. A small fight ensued but Zoe quickly broke it up by telling them both off. At the end of the shift, Ethan told Cal that he was done with him, and that he wasn't his brother anymore.[51]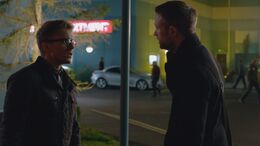 Over the following weeks, Cal attempted to make things right with Ethan but it was clear he had no intentions of doing the same. When Emilie was admitted at the end of February 2016, Ethan grew more attached to her and they bonded. She later told Cal her wishes to go to an old holiday destination of theirs, and was later diagnosed with pneumonia.[53] In early March, Cal and Ethan travelled with Emilie as she was going to somewhere more peaceful due to her wish not to die in a hospital. On the way there, they hijacked the ambulance leaving Iain and Andrews stranded. They narrowly avoided being arrested when a suspicious policewoman interrogated them at the roadside after they veered off into the shrubbery. They eventually arrived at Conleth Bay and prepared to open their test results. Ethan was oblivious to the fact that Cal had sent off his blood, and Cal told him that he took a sample back in January when Ethan demonstrated receiving an injection in order to put a patient at ease. Emilie died shortly after they told her that they were both negative, but after her death Ethan revealed that he had in fact inherited the disease, which left Cal in shock.[1] Towards the end of the month, Cal and Ethan had an argument outside the ED, as Ethan had been pushing Cal away following his results.[52]
In the following weeks, Ethan became distracted from his work as a result of his recent news. At the beginning of April, Ethan told Lily about his Huntington's news and that she wished Cal had got it instead. Cal overheard and went missing but Ethan knew that he would have gone to Conleth Bay. There, they had a conversation in Cal's car and Ethan apologised and said he would try to be more like Cal, leading a more adventurous life. After their conversation, they both ran along the beach and into the sea, just as Emilie said they had done as kids.[54]
In June, Cal persuaded Ethan to flirt with a patient who worked at a local delicatessen. Although he initially messed it up, she later dragged him into the storage cupboard but he soon asked her to stop and she fainted soon after. Ethan called for Cal to help him and it soon transpired that she was just trying to use Ethan to get pregnant as she wanted a child but her husband didn't.[55]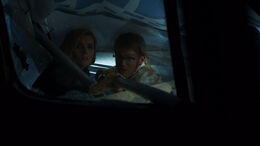 Towards the end of August 2016, Ethan was among the staff members who attended Charlie's 30th anniversary party at The Hope & Anchor across the road from the ED. He attempted to flirt with Alicia who'd returned to the department earlier that day following her brief time of working there in 2015. However, his attempts failed and Cal encouraged him to show his vulnerable side. It wasn't long after that Connie was admitted to the ED following her crash and the news got back to the department. Whilst Connie was being treated and Grace on her way via air ambulance, Ethan went to talk to Alicia who was waiting outside the ED. However, the helicopter carrying Grace was hit by a drone and it crashed down near the entrance of the ED. It pushed an ambulance forward towards the scaffolding which collapsed on Ethan and Alicia. Ethan sustained a leg injury, but Alicia was able to help at the same time Ethan revealed the source of his nickname "Nibbles", something which Alicia wasn't even aware of. After, they grabbed a long pole and managed to turn on the siren of the ambulance to alert everyone that they were in there. Cal promptly came to the rescue but was relieved when he realised how minor their injuries were. As night drew in, Alicia and Ethan were carrying food over from the pub and he told Cal that showing his vulnerable side backfired. However, he disagreed and told Ethan how Alicia was looking at him.[56]
The following week, Ethan assisted in treating Alicia's mum Jackie who'd been admitted to the ED. When it transpired that she had an STD, Alicia and Ethan shared a deep conversation together on the roof of the hospital about how they'd almost died the previous week. After their shift at the pub, Ethan told Alicia that he'd been able to secure her a place with Jez and Max in their flat. However, he was distraught when another man came along and left with her.[57]
Later in the month, Ethan and Alicia were once again thrown into work together when Elle requested that they go along together to the scene of a fall. They arrived to find that they'd have to be lowered into a confined dark underground cave system together, something which Alicia showed apprehension about. However, Ethan was able to calm her down when some rubble started to fall down and as they were being taken to the surface the pair almost shared a kiss. After work, Alicia suggested that they went back to her place, where they opened a bottle of wine. Despite Ethan's hopes that they would be spending a quiet night in, Alicia drank too much and ended up being sick and Ethan was left to get her into bed.[58]
Just days later, Gaynor was re-admitted to the ED following a fall through a greenhouse wall. However, as Ethan dug through her records he discovered that she was suffering from early symptoms of dementia. On the same day, he was busy planning Alicia's party but overheard her saying that she was enjoying being single. This prompted him to inform her that he couldn't make it. Later in the day following Gaynor's issues being resolved, she spoke to Ethan and encouraged him to make every second count as he'd said when he told her about his Huntington's. He went to the party, but saw Alicia kissing Cal from outside which resulted in him leaving the party heartbroken.[59]
In the following weeks, Ethan made it clear to Cal that he didn't care about what had happened with Alicia. At the end of October, Elle gave Ethan two tickets to the hospital's awards night and prompted him to take Alicia. During their shift, Cal tried to get the tickets from Ethan with the intention of taking Alicia himself, but Ethan rejected his request. Although she accepted, he later gave the tickets to Cal after all and he took her instead. Elle was confused, but Ethan had made the decision after a chat with a patient earlier in the day.[60]
In November, Cal decided to take Ethan's phone for the day after encouraging him to set up an online dating profile. Cal eventually gave Ethan his phone back towards the end of the day and was surprised to see that he had some messages. However, he soon noticed that this was as a result of Cal putting that he wasn't looking for a serious relationship in his bio. Alicia encouraged Ethan on what to put and soon he came to realise that she knew him better than anyone else.[61]
In early December, Ethan was still bottling his feelings for Alicia, and things weren't getting any better whilst he could frequently hear her and Cal together in the next room. Alicia encouraged Ethan to meet up with a woman named Penny who he'd been talking to on his online dating app, and she even invited her to the Christmas party that evening for him. During his shift, Ethan got hit in the face by a patient when he tried to break up an argument, which in turn worked to his benefit as Connie let him go home early due to his unprofessional look. At the party, Ethan and Penny shared a kiss but she soon left when she realised that he kept looking at Alicia. That evening, Ethan finally admitted to Alicia that he was in love with her.[62] The next day it was Christmas Eve, and they decided to both try to forget about it.[63]
On New Year's Eve, Elle told Ethan and Cal of an opportunity for a research post in South Africa, and asked for their research proposals by the end of the day if they wanted to go. Cal asked to borrow Ethan's tablet so he could upload his holiday pictures from The Bahamas, in an attempt to show Alicia what a good time he had; something which annoyed Ethan. Whilst looking at Ethan's proposal, Elle walked in and assumed it was Cal's. In the moment, Cal submitted it to Elle, claiming it to be his. When Ethan found out he was furious, and he turned up at Alicia's house demanding to see Cal. She told him that he'd gone to London, but when Ethan began telling her about all the bad things Cal had done to him, she began to sympathise. Eventually, Ethan kissed Alicia, not caring about what his brother wanted anymore.[64]
The following day, Ethan and Alicia woke up together but were disturbed when Robyn knocked on Alicia's door asking for something. In the commotion, Ethan injured his knee on a radiator which Alicia treated when they got to work. They narrowly avoided being caught kissing by Duffy, and she soon began to catch onto the fact they were seeing each other during the day. Ethan and Alicia discussed the fact they'd have to tell Cal the truth, but just as they were about to Alicia backed out and pretended they wanted to speak to him about the South African proposal. That evening, Cal found a cuff-link on Alicia's bedroom floor.[65]
Later in the month, Cal found a secret phone in Alicia's locker and when he told Ethan, he too was confused, especially when they found messages to a suspected lover. They agreed to meet the mystery man outside the ED later that day, and were both surprised when Max turned up. In anger, Ethan punched him in the face, but Alicia diffused the situation and revealed that she was just pranking Max, pretending to be a woman he'd met on a dating site. Later that evening, the cuff-link fell out of Cal's pocket, and he was shocked when Ethan claimed it as his, therefore confirming for Cal that his brother had slept with Alicia.[66]
On the stag night, Cal pushed Ethan over and broke his glasses, but Ethan mistook it for an accident. However, Cal's anger with Ethan was pushed aside by the next morning when they were unable to find Charlie. Cal had also woken up with a briefcase handcuffed to his wrist, and retracing their steps Ethan was able to get it open. Eventually the man whose briefcase it was threatened them and was about to hurt Cal, but Ethan intervened and saved him. Realising how much Ethan cared about him, Cal managed to forget about what had happened, although Ethan and Alicia remained oblivious that Cal knew of their fling.[67]
At the beginning of April, Ethan was upset to learn that Alicia had spent the night in Sam's bed. Although they hadn't slept together, Alicia and Ethan mutually decided that a relationship between them wasn't going to happen.[68] Later in April, Cal proposed to Ethan, Lily and Alicia that they start a work-to-rule protest, in an attempt to stand in solidarity with the consultants following the budget cuts. Cal confronted Sam in the ED after the shift, and although Ethan was willing to go through with it, he was surprised at Cal's confrontation.[69]
The following week, the day of the strike arrived. However, Cal soon became frustrated with Ethan and Alicia for not taking the strike as seriously as he had hoped. Matters were only made worse when Robyn turned up with Charlotte, as this was another distraction. When Cal confronted them about it, they told him that they thought the protest had been made into too much of a personal act against Sam. In anger, Cal told them that he knew Ethan had slept with Alicia whilst they were going out and stormed off.[70]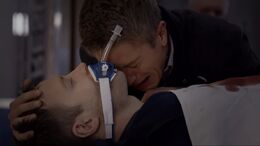 When Ethan and the others noticed Lily being taken into the ED, they soon abandoned the strike to help her. However, when Roy Ellisson's condition began to deteriorate, and he later died whilst under Ethan's care. To make matters worse, the Ellisson family had already left the realtives room and discovered Roy's body before Ethan could find them. Their son, Scott was angry with Ethan, and Cal advised Ethan to leave the ED with Alicia to get out of harm's way. Cal saw Scott giving Ethan death stares, and became worried when he hadn't heard from Ethan after he left with Alicia. As a storm hit Holby and night fell, Cal fought Scott in the rain, in an attempt to protect Ethan. However, Scott pulled out a knife and stabbed Cal in the chest. Although he was found by Dylan and brought into the ED, the bleeding was too severe and he died. Max went and got Ethan and Alicia from the pub across the road, and when Ethan got back to the ED he was shocked and distraught to discover that Cal had died.[8]
In early May, Ethan returned to work, still in shock from the events of Cal's death. During the shift, Charlie urged him to listen to the voicemail that Cal had left him on the night of his murder. In the voicemail, Cal warned Ethan that Scott could be after him, which led them to realise that Scott was likely responsible for Cal's death. Ethan spoke to the police, but still wanted to get back to work as a distraction. After his shift, Ethan almost ran Alicia over in the car park. She sensed that he was still in shock, and they shared a kiss, as she promised that they'd both get through it.[71]
In June, Ethan was shocked when Mickey Ellisson was admitted to the ED alongside his mother, Denise, who instantly accused Ethan of being the doctor who let Roy die. However, Ethan's shock soon turned to horror when Scott turned up, as he had become face-to-face with Cal's potential murderer. Ethan confronted Scott in the relatives' room, which led to a small fight breaking out. Back in resus after the situation was under control, Ethan taunted Scott by telling him that he'd only save Mickey if he admitted to killing Cal. Ethan ultimately saved Mickey anyway, despite Scott's refusal to take the blame. After his shift, Scott apologised to Ethan for their run-in earlier, and wished him the best of luck in finding Cal's killer.[72]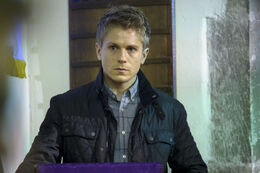 The following week, the day of Cal's funeral arrived and Ethan attempted to distract himself by heading into work. However, he ended up on the receiving end of a father's anger, after he hinted confidential information to his son. As a result of the stressful day, Ethan arrived at the church drunk, giving a heartfelt eulogy to the guests. After the funeral, Ethan took some time to mourn at Cal's grave, at which point he spotted Scott watching him from across the grounds, before driving off in his car.[73]
A week after the funeral, Alicia became concerned about Ethan when he wasn't getting enough sleep due to his obsession with getting justice for Cal's death. He was adamant that Scott was responsible for killing Cal, and Alicia only grew more concerned when she discovered that Ethan had been spending his evenings keeping watch outside Scott's flat.[74]
In July, Ethan discovered that Jez was in a relationship with Mickey. He was irritated that Alicia knew about it and hadn't told him. Ethan pleaded with Jez to let him talk to Mickey, which he agreed to, although Mickey refused to help Ethan find out anything about Scott. As a last resort, Ethan threatened to tell Mickey's family about his relationship if he didn't comply. Jez later agreed to get some information on Scott for him, but instructed him not to tell anyone. Alicia was irritated that Ethan had blackmailed Jez, but was still willing to support Ethan if he didn't carry on his stalking of Scott. She confessed her love to him outside the ED, but informed her that he had to go ahead with his own investigation and kissed her goodbye.[75]
Later that month, Scott turned up in the ED to visit Mickey, who'd been injured after falling off his motorbike. Ethan quickly discovered that they'd been involved in a violent robbery at a local shop. When Scott threatened the shopkeepers wife into not making a statement, Ethan became angry and revealed that Mickey was sleeping with Jez. A fight ensued on the second floor balcony and Scott ended up falling over the railing, sustaining severe injuries.[76] Ethan immediately came to Scott's aid, but Lily took charge of his treatment. Once stabilised and recovering, Scott taunted Ethan about Cal's death, saying that he deserved it. Moments later, Scott began choking on his own vomit and instead of helping, Ethan left resus in shock. Scott later died, with Ethan left feeling guilty and Connie fearing an official inquiry into his death.[9]
Personal life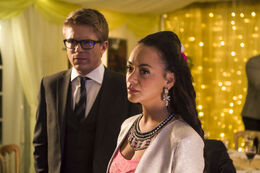 Ethan has had several romantic encounters whilst working at the ED, including Lily Chao and Honey Wright. In August 2015, Ethan began a relationship with Honey but it ended the next month.[41] Honey later admitted to Noel that she only dated Ethan because he was a doctor, although Ethan never discovered this. There was also something between Lily and Cal at one point, which left Ethan feeling awkward. Outside of work, Ethan likes to spend time with his family and friends, and will often join his colleagues after their shift at The Hope & Anchor, the pub located opposite the ED.
In March 2016 whilst in a tourist cafe with Cal and Emilie, a waitress named Kate gave Ethan her number on a napkin.[1] Later in the year, a romance blossomed between Ethan and Alicia, but at every opportunity something went wrong, notably her and Cal kissing at her birthday party.[59] After the staff Christmas party in December, Ethan confessed his love for Alicia.[62] On New Year's Eve, Ethan kissed Alicia and they spent the night together.[64]
Cal discovered that they'd slept together when he found Ethan's cuff-link on Alicia's bedroom floor the following day, but he decided to keep it to himself.[65] Over three months later in April, Cal finally confronted them about it and told them that he knew, leaving them embarrassed.[70] Despite this, Cal later gave them his blessing to date, shortly before his sudden death later that day.[8] The following week with Ethan still in shock, he shared a kiss with Alicia as she promised him they'd get through it together.[71]
Alicia stood by Ethan in the following weeks, but eventually became concerned upon discovering he was stalking Scott.[74] She eventually confessed her love for him and urged him to stop stalking Scott but he insisted that he had to do it for Cal. This effectively ended their relationship.[75]
Trivia
Caleb Knight is his brother.[3]
Strengths: Naturally gifted medic, strong bedside manner, makes people laugh.[77]
Fears: Forever being seen as second best.[77]
Ethan was adopted.[10]
Ethan reluctantly used rock, paper, scissors with his brother to settle disputes and more than often lost.[77]
Ethan punched Cal when he was 9 and broke his thumb.
His childhood nickname is 'Nibbles' – something which Cal took great delight in calling him.[77]
Cal once shot Ethan with an air rifle by accident.
Ethan is scared of crabs.
He's allergic to jam doughnuts.
Ethan had a brief romance with Honey, Noel's daughter.
Ethan hates public speaking and had developed a stutter in the past.
He discovered in 2016 that he had inherited Huntington's disease from his birth mother, Emilie.[1]
Cal and Ethans's father was a Lothario medical man like Cal, and he hated the man so he took his mothers maiden name of Knight. Ethan remained close with his parents and kept the name Hardy.
Ethan is scared of heights.[50]
Ethan was distraught when Cal was murdered in April 2017.[8]
Behind the scenes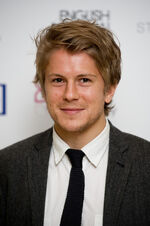 George Rainsford currently portrays Ethan on Casualty. He made two guest appearances as Ethan on Holby City in June 2016. Since his arrival on the show, Ethan has become a fan favourite character.
Fans through social media have often criticised the low prominence which Ethan has in most episodes, noting that Cal has become a more prominent character. In series 30, Ethan's birth name was revealed to have been Michael and Cal's Steven. This was possibly inspired by actor Michael Stevenson who plays paramedic Iain Dean.
Appearances
See also: Character appearances and Category:Ethan centric.
Ethan first appeared in the series 28 episode "Bad Timing" at the beginning of 2014. To date, Ethan has had 15 centric episodes; two in series 28, one in series 29, three in series 30 and nine in series 31; the majority of his centric episodes in series 31 were a result of the aftermath of Cal's death.
References
↑ 2.0 2.1 2.2 "Bad Timing" (S28, E20)
↑ 3.0 3.1 3.2 "Brothers at Arms" (S28, E21)
↑ 4.0 4.1 "The Lies We Tell" (S28, E30)
↑ 5.0 5.1 "Forsaking All Others - Part One" (S29, E45)
↑ "Maybe This Year" (S30, E14)
↑ "Just Do It" (S30, E24)
↑ 8.0 8.1 8.2 8.3 "Reap the Whirlwind - Part Two" (S31, E33)
↑ 9.0 9.1 9.2 "Somewhere Between Silences - Part Two" (S31, E43)
↑ 10.0 10.1 10.2 "Home for Christmas" (S30, E16)
↑ "Keeping Schtum" (S28, E22)
↑ "The Last Chance Saloon" (S28, E27)
↑ "Once in a Lifetime" (S28, E24)
↑ "Valentine's Day Mascara" (S28, E25)
↑ "Survivor's Guilt" (S28, E28)
↑ "Falling - Part One" (S28, E42)
↑ "Falling - Part Two" (S28, E43)
↑ "First Impressions" (S28, E45)
↑ "The Sicilian Defence" (S28, E47)
↑ "A Life Less Lived" (S28, E48)
↑ 21.0 21.1 "Born Lucky" (S29, E05)
↑ "Go Out and Get Busy" (S29, E04)
↑ "The Last Call" (S29, E06)
↑ "The Index Case" (S29, E07)
↑ "Return to Sender" (S29, E08)
↑ 26.0 26.1 "Losing Grip" (S29, E12)
↑ "Muddling Through" (S29, E17)
↑ "The Last Goodbye" (S29, E18)
↑ "What a Difference a Day Makes" (S29, E19)
↑ "Something Borrowed, Something Blue" (S29, E27)
↑ "Under Pressure" (S29, E28)
↑ "The King's Crossing" (S29, E29)
↑ "The Rita Supremacy" (S29, E30)
↑ 35.0 35.1 "Dark Horses" (S29, E42)
↑ "The Next Step" (S29, E41)
↑ "The Long Haul" (S29, E43)
↑ "Knock Knock Who's There?" (S29, E44)
↑ 39.0 39.1 "Forsaking All Others - Part Two" (S29, E46)
↑ "Objectum Sexual" (S30, E03)
↑ 41.0 41.1 "Cradle to the Grave" (S30, E04)
↑ "Black Alert" (S30, E19)
↑ "The Good Life" (S30, E21)
↑ 50.0 50.1 "Step Right Up" (S30, E22)
↑ "Hearts and Flowers" (S30, E23)
↑ 52.0 52.1 "Sweet Child of Mine" (S30, E28)
↑ "Fatal Error - Part Two" (S30, E26)
↑ "Buried Alive" (S30, E29)
↑ "The Best Day of My Life" (S30, E37)
↑ 56.0 56.1 "Too Old for This Shift" (S31, E01)
↑ "Fall on Me" (S31, E02)
↑ 58.0 58.1 "Pride Comes Before a Fall" (S31, E04)
↑ 59.0 59.1 "Party Pooper" (S31, E06)
↑ "Night of the Loving Dead" (S31, E09)
↑ "Not in Holby Anymore" (S31, E13)
↑ 62.0 62.1 62.2 "All I Want for Christmas is You" (S31, E14)
↑ "Bah Humbug" (S31, E15)
↑ 64.0 64.1 "New Year, New Me, New You" (S31, E16)
↑ 65.0 65.1 65.2 "What Lurks in the Heart" (S31, E17)
↑ "Crazy Little Thing Called Love" (S31, E20)
↑ 67.0 67.1 "The Stag, the Dog and the Sheep" (S31, E21)
↑ "Sleeping With the Enemy" (S31, E29)
↑ "When the Whistle Blows" (S31, E31)
↑ 70.0 70.1 "Reap the Whirlwind - Part One" (S31, E32)
↑ 71.0 71.1 "Break Point" (S31, E34)
↑ "Swift Vengeance Waits" (S31, E37)
↑ 73.0 73.1 "Do Not Stand at My Grave and Weep" (S31, E38)
↑ 74.0 74.1 "It Had to Be You" (S31, E39)
↑ "Somewhere Between Silences - Part One" (S31, E42)