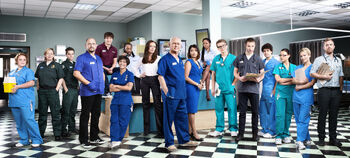 Throughout the series of Casualty, several characters' birthdays have been revealed. However, due to the genre and narrative of the show these have sometimes been subject to change.
Current characters
Past characters
Image
Character
Birth date
Current age/ age at death
Revealed in
Zoe Hanna
23 August 1974
43
"A Life Less Lived" (age and date)
Adam Trueman
21 August 1970
47
"What Tonight Means to Me - Part Two" (age and date)
Caleb Knight
12 February 1986
31 (d. 29/04/17)
"Do Not Stand at My Grave and Weep" (date)
Ruth Winters
18 October 1984
33
"Love is a Sacrifice" (date)
"Next of Kin - Part One" (age)
Tess Bateman
22 January 1967
50
"The Memory of Water" (date)
Kathleen "Dixie" Dixon
13 April
N/A
"Unsilenced" (date)
Jeff Collier
1971/1972
42 (d. 4/10/14)
"The Last Call" (age)
Tamzin Bayle
7 August
N/A
"All the Single Ladies" (date)
Jez Andrews
1993
23–24

"High Tide" (age)
BBC Character Profile (year)

Honey Wright
1992 or 1993
23–24
"Home for Christmas" (age)
Notes
↑ The events of "Party Pooper" took place on 19 September due to episode continuations. See here for more information.
↑

Duffy originally celebrated her 40th birthday in November 2000, making her DOB 11 November 1990. It was later revealed in series 31 to be 11 March 1961, exactly four months after the original date.
Ad blocker interference detected!
Wikia is a free-to-use site that makes money from advertising. We have a modified experience for viewers using ad blockers

Wikia is not accessible if you've made further modifications. Remove the custom ad blocker rule(s) and the page will load as expected.