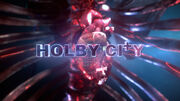 This category is for characters who are or were regulars on Holby City but have appeared for guest appearances in Casualty. This does not include characters such as Connie Beauchamp, as she has since become a series regular of Casualty too.
Pages in category "Holby City characters"
The following 13 pages are in this category, out of 13 total.
Ad blocker interference detected!
Wikia is a free-to-use site that makes money from advertising. We have a modified experience for viewers using ad blockers

Wikia is not accessible if you've made further modifications. Remove the custom ad blocker rule(s) and the page will load as expected.